Green light for project investing £2million into Ludlow Assembly Rooms
Ludlow Assembly Rooms is celebrating the start of its major transformation project as the final piece of the jigsaw has been put into place. Shropshire Council and the Ludlow and District Community Association (LDCA) – (the community-based charity which runs South Shropshire's arts and community centre) have signed a lease for the whole building. This will allow the £2million project to successfully get underway.
The project will see the Assembly Rooms grow and take over the ground floor of the iconic 19th Century building. It will welcome audiences and visitors alike from its new entrance on Castle Square, at the heart of the town. A new lift and other features will make the building more accessible to all. The ground floor will house a new Visitor Information and Box Office facility as well as a café/restaurant. The project will completely overhaul the heating, air conditioning and other services to increase the building's environmental sustainability and the comfort for its audiences.
The project is being funded by the European Regional Development Fund (ERDF) and Arts Council England with match funding from the Assembly Rooms and Shropshire Council.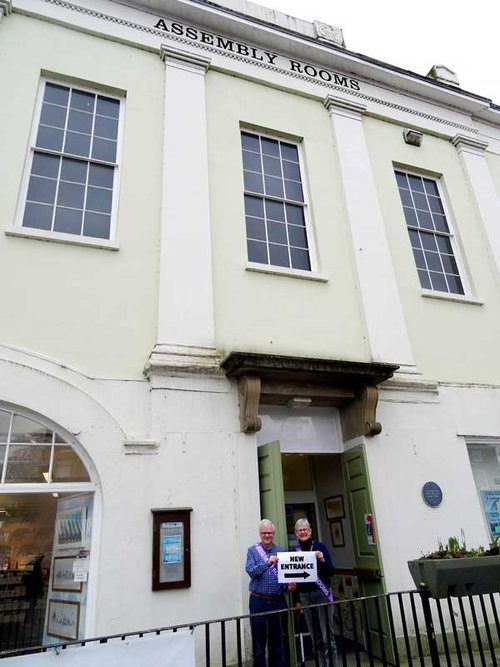 Gareth Williams, LDCA Chair said:
'It's taken a huge amount of very hard work over many years by the staff and board at the Assembly Rooms to secure the funding for this really exciting project. I am delighted that this is now starting to bear fruit. Over the next 12 months we will see a real transformation of the building, putting the Assembly Rooms even more clearly at the heart of Ludlow. We are extremely grateful to both the ERDF Programme for England and the Arts Council for the support they are providing but I also want to acknowledge the huge part played by our MP, Philip Dunne, who has helped us enormously.
'We are really excited by the plans which the architects, Lyndon Goode, are developing. We will be revealing the plans in detail as the centrepiece of our25th Anniversary celebrations over the late May Bank Holiday weekend when we will also be launching a fundraising campaign for the finishing touches'.
Philip Dunne MP added:
"I am absolutely thrilled that after a lot of hard work by many, especially the staff and voluntary trustees over several years, the fabric of the Ludlow Assembly Rooms has been secured for the future. There have been considerable hurdles along the way, in particular in bringing together all the interested parties, to ensure different funding conditions were met. It is great news for the whole community of Ludlow and the South Shropshire cultural scene that Ludlow Assembly Rooms can now begin their major transformation project – and look forward to an exciting sustainable future!"